In the noisy city, people are working hard to build a house. After having a house, how to create a comfortable home has become a problem for many young people. From the traditional decoration era to the "light decoration and heavy decoration" that has attracted people's attention for several years, the decoration concept has continued to develop as people's attention has increased. In this new concept, the integrated ceiling mode with fashion, green and other functions has also emerged from time to time, which once attracted enthusiasm. The integrated ceiling integrates various functions that people need, including lighting, ventilation, heating, etc., through the overall combination to achieve unity and harmony. Compared with traditional ceilings, it has rich colors and high surface smoothness, making it more modern, stylish and luxurious.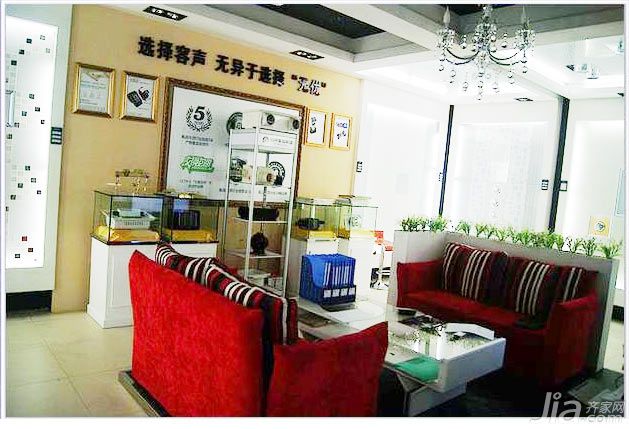 Rongsheng Integrated Ceiling Red Star Macalline Store in Tiexi District, Shenyang
Evaluation time: October 28, 2012
Evaluation location: Red Star Macalline, Tiexi District, Shenyang City, the first floor of Rongsheng integrated ceiling store
Evaluation brand: Rongsheng integrated ceiling
Evaluation product: Rongsheng Integrated Ceiling D12Y Nano Auspicious Flower
Product specifications: 300 * 300
Main material: aluminum magnesium manganese alloy
Product features: strong and tough, wear-resistant, flame-retardant, oil-resistant, corrosion-resistant
Applicable places: kitchen and bathroom
Evaluation items: appearance, materials, accessories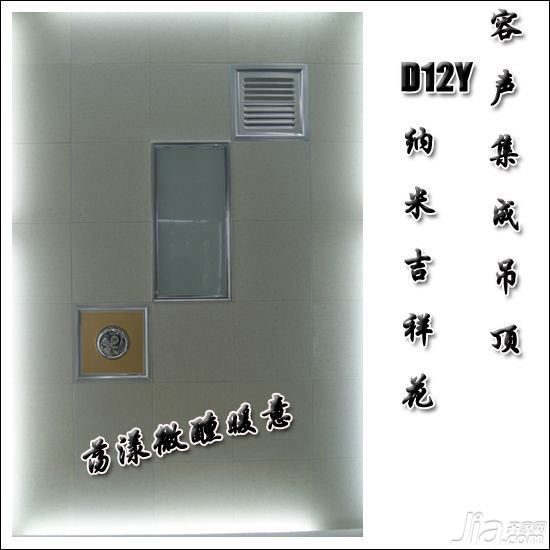 Rongsheng Integrated Ceiling D12Y Nano Auspicious Flower
First impression of evaluation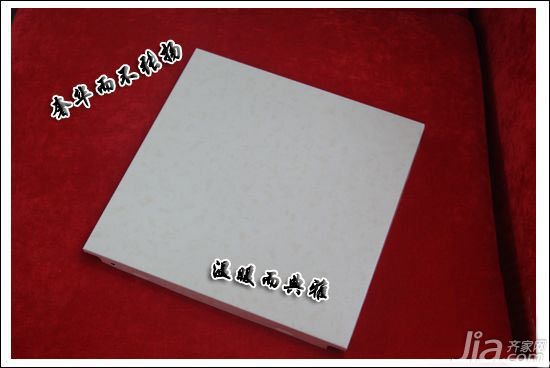 The first impression of this integrated ceiling is warm and elegant. Warm yellow as the main color, with a little darker floral pattern, perfectly combines the rural style and fashion art, luxury is not exaggerated, noble but lacks sentiment!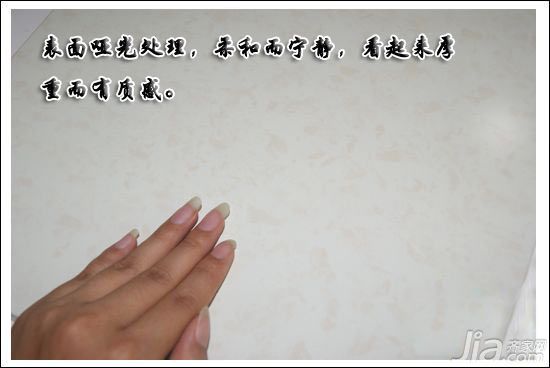 The surface is matte, soft and serene, looks thick and textured, giving a gentle and harmonious feeling, like a mellow wine, giving people endless romantic warmth, it is more suitable for use in the bathroom.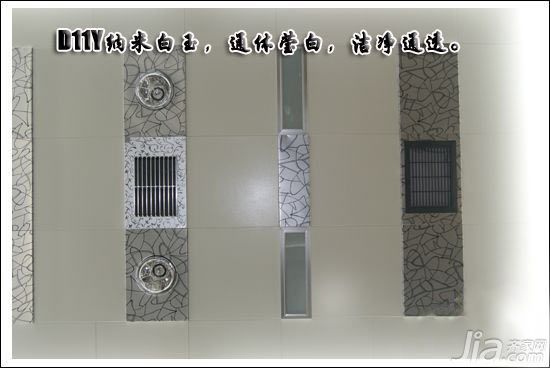 Rongsheng Integrated Ceiling Nano Series has another color-D11Y nano white jade, which is white and clean, transparent and very suitable for use in the kitchen.
Material inspection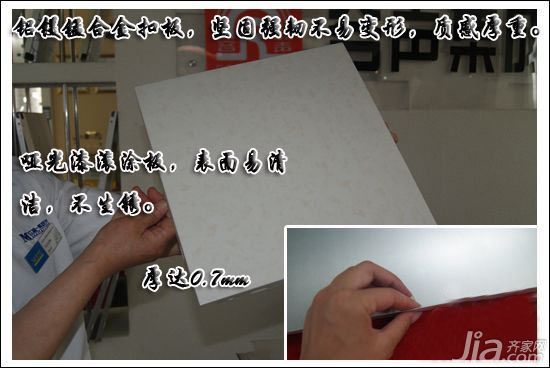 This Rongsheng D12Y nano auspicious flower integrated ceiling uses a 0.7m thick aluminum magnesium manganese alloy panel. Magnesium and manganese respectively strengthen the hardness and toughness of the gusset. The advantage of this panel is that it is not easy to deform. The appraisers picked up a gusset on the spot and felt its heavy texture. According to reports, this buckle plate is a matte paint roller-coated plate, and the surface is easy to clean and does not rust.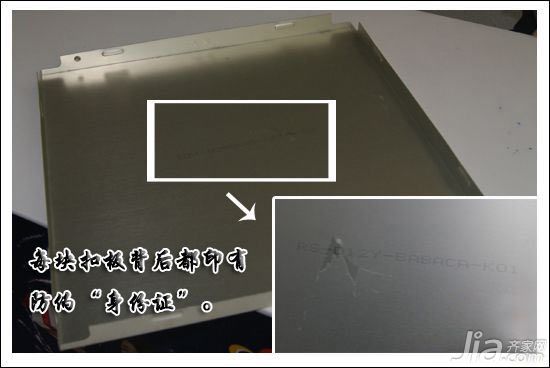 The testers observed that each buckle plate of Rongsheng is printed with anti-counterfeiting code, just like a person's ID card, which is more convenient for customers to identify the authenticity.
Flame retardant test: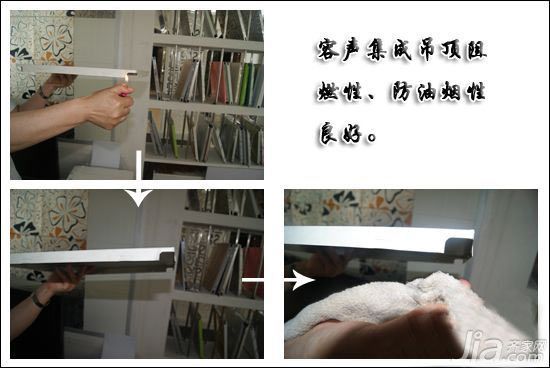 Kitchen and bathroom supplies are better than necessarily flame retardant, and can prevent oil fumes, so cleaning and care is not bothersome. The assessors tested the Rongsheng D12Y Nano Lucky Flower Integrated Ceiling on site. Burn the edge of the gusset with a lighter until there is a black mark on the burned part. This black mark can be wiped off with your finger, and there is no mark left. It can be seen that its flame retardancy and oil smoke resistance are good.
Oil resistance test: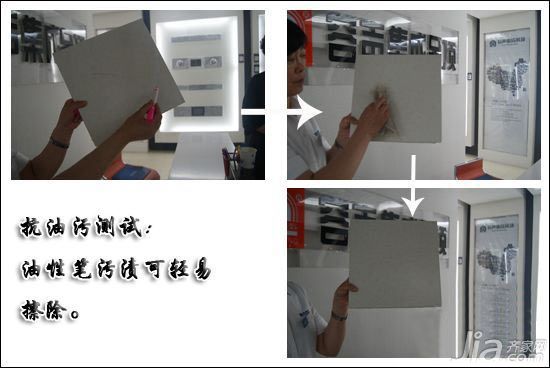 It is better to choose the suspended ceiling to have better anti-oil pollution performance, otherwise it will easily leave a clean corner. The shopping guide used an oil-based pen to write on the buckle plate with an oil-based pen, and then wiped the handwriting with a rag, the handwriting was immediately cleared.
Wear resistance test: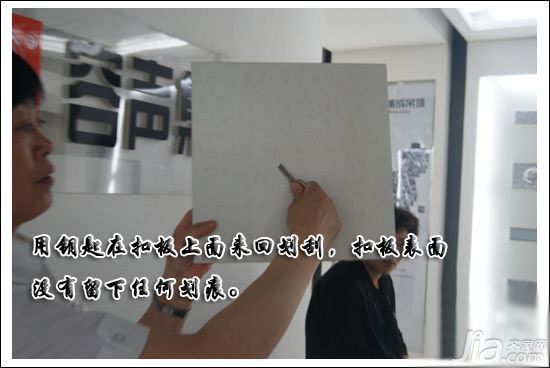 Use the key to scratch the back and forth of the buckle plate without leaving any scratches on the surface of the buckle plate, proving that this ceiling has good wear resistance.
Specification inspection: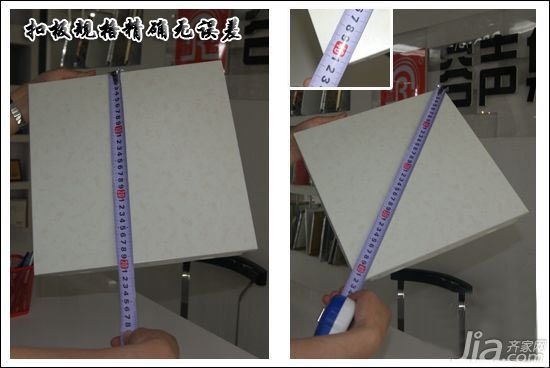 The specifications of the gusset are not to be underestimated. If the specifications are too different, the assembled gusset will inevitably be uneven. The specifications of the gusset plate of this suspended ceiling were measured on site, and the specifications were accurate and error-free.
Accessories and electrical appliances: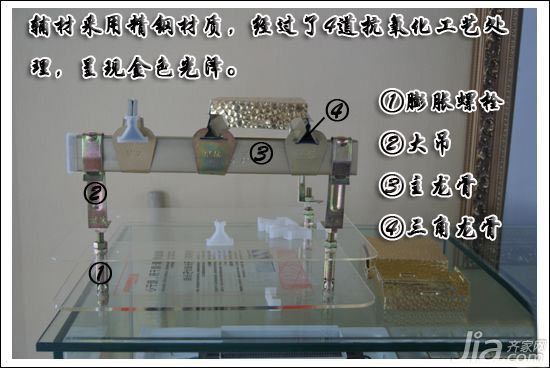 Rongsheng integrated ceiling, all auxiliary materials are made of stainless steel, after 4 anti-oxidation processes, showing golden luster. No matter how the years change, it will always be a golden soup. Expansion bolts have passed the EU SGS certification and reached the export standard.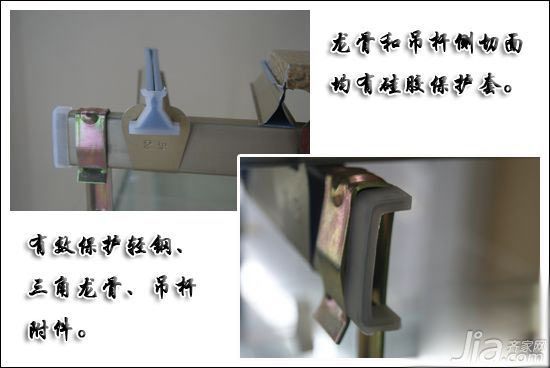 There are silicone protective sleeves on the keel and hanger, which can effectively protect the light steel, triangular keel, and hanger accessories, and will not cause the phenomenon of corrosion and rust at the broken end caused by moisture. This is a unique advantage of Rongsheng Ceiling. Most brands on the market do not have such complete anti-rust measures.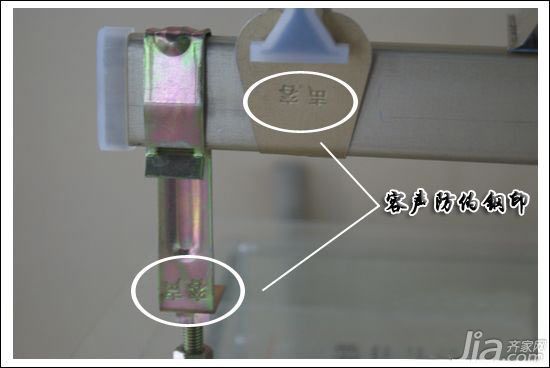 In addition, Rongsheng accessories are printed with "Rongsheng" anti-counterfeiting steel stamps, and the quality is guaranteed.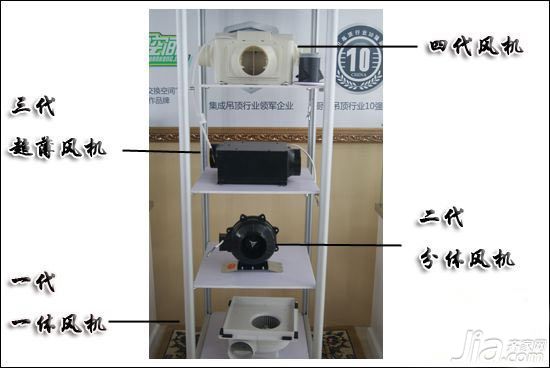 Rongsheng Electric has been 30 years old and its quality is absolutely excellent.
Rongsheng integrated ceiling fans have evolved to the fourth generation, and most of the integrated ceiling fans on the market are still in the initial state. Rongsheng still retains the first generation of wind turbine hosts, because the price will be slightly lower. But even for the first generation of fans, Rongsheng's attention to detail still reflects Rongsheng's well-known code of conduct in the 1980s, "Rongsheng Rongsheng's quality wins."
Rongsheng's fourth-generation fan has a super advantage in the industry. Three rooms can achieve simultaneous ventilation, 190 cubic meters per hour. Using bearings imported from Japan, it can be divided into strong and weak grades, and the electricity consumption for 24 hours is only 0.42 yuan, which is green and energy-saving. The sound when starting is only 36 decibels, which is equivalent to the sound of a mosquito flying.
Evaluation summary : The D12Y nano auspicious flower with integrated ceiling of Rongsheng is elegant and warm overall, and adopts high-quality aluminum-magnesium-manganese alloy panel with super anti-fouling, anti-scratch and wear resistance. At the same time, the accessory materials of the Rongsheng integrated ceiling are also optimized synchronously. The steel keel is treated by a special process to resist corrosion and have a long service life. Among them, the fourth-generation ventilating fan with integrated ceiling of Rongsheng has excellent quality, and has always enjoyed a high evaluation in the consumer group. Today 's field trip just confirmed that the Rongsheng integrated ceiling is worthy of the name. Such an elegant appearance coupled with its excellent performance is the first choice for home improvement ceilings.
What, the decoration still uses his own money? ! The Qi family is decorated in installments, with an ultra-low annual interest rate of 3.55% and a maximum loan of 1 million. Apply now to enjoy the discount
If you are interested in brand cooperation, content cooperation, and advertising of this website, please send an email to :.
Integrated ceiling integrated ceiling brand Rongsheng integrated ceiling house house decoration electrical door price home improvement kitchen integrated ceiling kitchen and bathroom ceiling bathroom ceiling material overall bathroom toilet door
HDF door skins are also called molded door skins.We have customized more than 100 different molding
designs/patterns such as 2-panel, 3-panel, 4-panel, 5-panel, 6-panel, oval, etc. We normally produce 3.0mm
plain/white primed HDF door skins and 3.2 wood-veneered HDF door skins.
HDF door skins: veneer Door Skin, Melamine Door Skin, plain door skin

Door Skin
Door Skin,HDF Door Skin,Melamine Door Skin,HDF Moulded Door Skin
Shouguang Bailing Wood Industry Co., LTD. , http://www.bailingfurniture.com