List of recommended packages: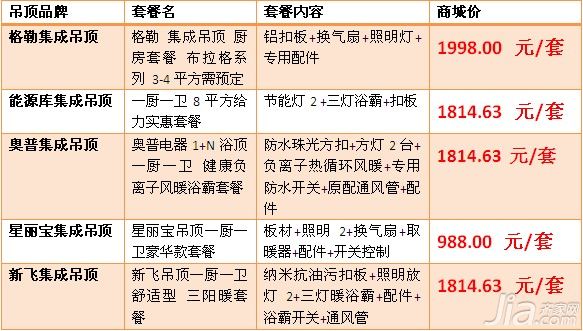 Recommendation 1: Geller integrated ceiling kitchen package Prague series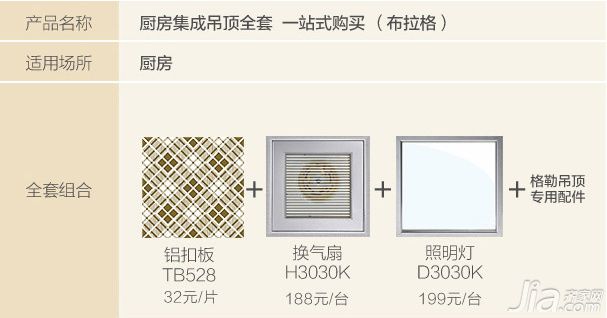 Mall price: 1998.00 yuan / set to buy >>
Recommended reason: Geller integrated ceiling has always been focused on the art of the ceiling. This artistic Prague series also has high-strength anti-smudge, anti-scratch, anti-extrusion, corrosion resistance, sound insulation and other functions. In addition, Guller strives for excellence for each buckle plate. Each buckle plate is printed with Geller 's unique brand steel stamp. The thickness of 0.6 mm and the matt surface effect and the stylish European pattern highlight Geller 's unique art. style. In terms of electrical appliances, the ventilation fan panel of Gühler is made of brushed aluminum alloy, the new ABS ventilation wheel shell, the resin ABS and the non-impedance air duct design make the air intake and exhaust more smooth and have a good mute effect.
Recommendation two: energy store integrated ceiling, one kitchen, one bathroom, 8 square meters, awesome and affordable package
The package includes: 22W three primary color energy-saving lamps 2 + three lamp Yuba 1 + ventilation fan 1 + nano plate, brushed plate, frosted plate optional
Mall price: 1814.63 yuan / set to buy >>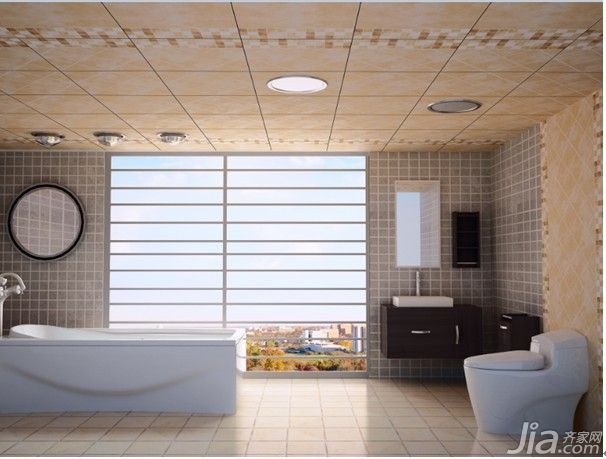 Recommended reason: The integrated ceiling of the energy store has always had a high sales volume on Taobao and this website. High-quality products and affordable prices have left a good impression in consumers' hearts. Today's recommended one-kitchen one-bathroom 8 square awesome affordable package of energy library has 2 22W three-color energy-saving lamps + 1 three-lamp bath heater + 1 ventilation fan + nano plate, brushed board, frosted board optional, the package only needs 1814.63 Yuan, such a preferential price and multiple choices, will surely become the ideal ceiling for consumers who are pursuing high cost performance.
Recommend three: Aop integrated ceiling 1 + N bath top, one kitchen, one bathroom, healthy anion wind heating bath package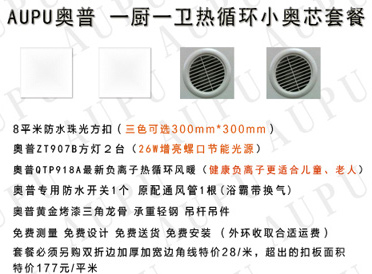 Promotion price: 2480.00 yuan / set to buy >>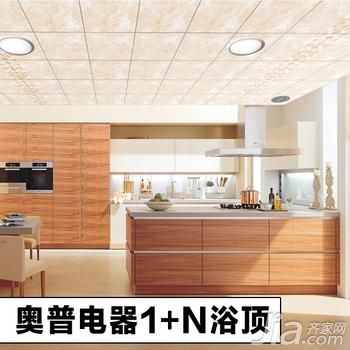 Recommended reason: The buckle plate used in this one-kitchen one-bath package with integrated ceiling is anodized. The high-quality buckle plate is anodized on the surface of the entire roll of aluminum material and undergoes a special attachment process to make its surface layer. Form an anodic oxidation protective film that will never fall off, with the characteristics of hardness, wear resistance, corrosion protection, insulation, strong sense of quality and so on! At the same time, the healthy anion wind heater is more suitable for the elderly and children.
Recommendation 4: Xing Libao integrated ceiling, one kitchen, one bathroom, luxurious package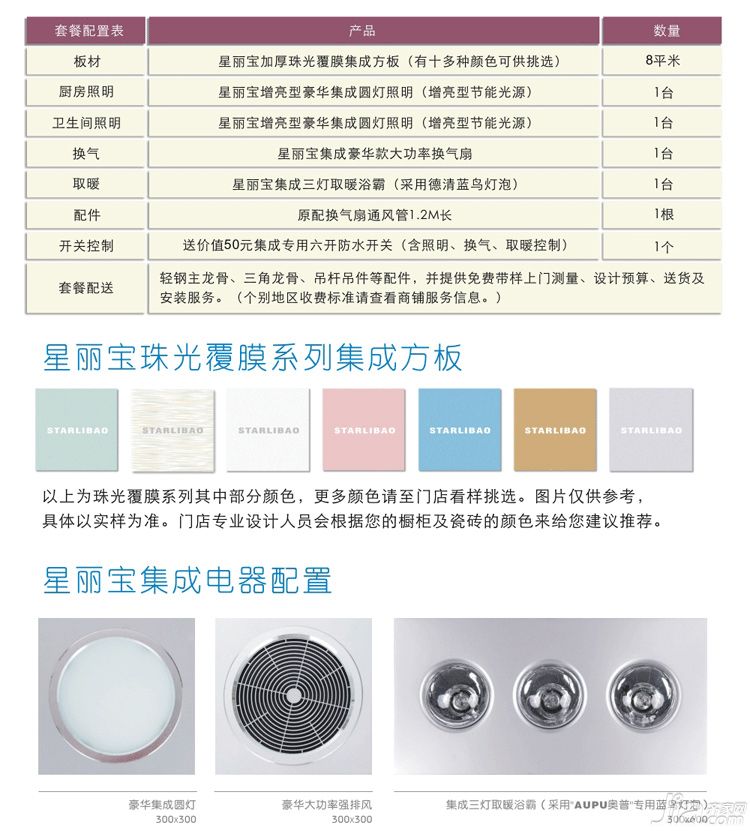 Promotion price: 988.00 yuan / set to buy >>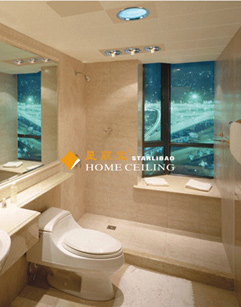 Recommended reason: Xinglibao integrated ceiling is the national B & Q and Haomeijia large-scale building materials supermarket. It has won the sales of similar products for three consecutive years and the network sales for eight consecutive years in the ceiling area in Shanghai. This package is a luxurious electrical configuration of Xinglibao integrated ceiling series, which combines high quality, high cost performance and high practicality in one! Integrated installation of kitchen appliances, ceilings, and any combination of colors and modules, giving you the highest DIY personality enjoyment.
Recommendation 5: Xinfei Integrated Ceiling, One Kitchen, One Bathroom Comfortable Sanyang Warm Package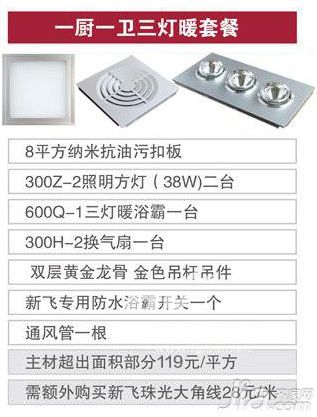 Promotion price: 888.00 yuan / set to buy >>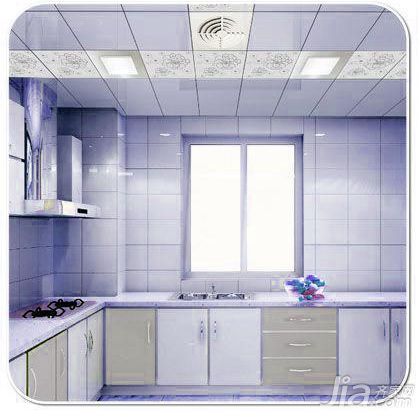 Recommended reason: Xinfei integrated ceiling lighting uses LED lighting, making the lighting more uniform and 100% without dark areas, making the lighting range wider and brighter, and more energy-efficient through the principle of light refraction, using less power To complete more lighting. The thickness of the gusset plate is 0.6Mm. The high-quality aluminum-magnesium-manganese alloy gusset plate enhances the flexibility and strength of the bottom plate to a greater extent. And the nano-processing technology is added to the surface of the gusset plate, which truly functions as oil reduction and easy cleaning. This package is only 888 yuan, such a favorable price, and high-quality products, is definitely a must for you to start.
What, the decoration still uses his own money? ! The Qi family is decorated in installments, with an ultra-low annual interest rate of 3.55% and a maximum loan of 1 million. Apply now to enjoy the discount
If you are interested in brand cooperation, content cooperation, and advertising of this website, please send an email to :.
Gühler Integrated Ceiling Xinfei Integrated Ceiling Oppu Integrated Ceiling Lighting Appliance Aluminum Alloy Kitchen Integrated Ceiling Kitchen and Bathroom Ceiling
OIL- CONTROL NOURISHING SPRAY
Key ingredients: PCA sodium,
erythritol, carrageenan, pea
extract, hydrolyzed rice protein,
etc.
Capacity: 100ml
t It is suitable for daily scalp
maintenance of oily hair, or it can
be used with platinum version or luxury version
-HERBAL EXTRACT-

Oil Control Spray,Hair Oil Control,Scalp Balancing Fluid,Hair Fall Control Oil
Shenzhen Sipimo Technology Co., Ltd , https://www.sipimotech.com